This is so stinking cool
I had to show ya all again,
just is case someone forgot
or didn't see it before.
Oh, who I am kidding?
I like it and that's good enough for me.
Afterall, I'm pretty much the only
person who looks at this blog....
But, that's okay too!
(for now, anyway)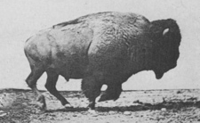 Sixteen frames of famed photographer
Eadweard Muybridge's
1887 Running Buffalo.
Images were sequenced together
to create this animation.
Muybridge is known
for creating such sequences of still images,
originally done as locomotion studies,
that eventually became
motion picture films.